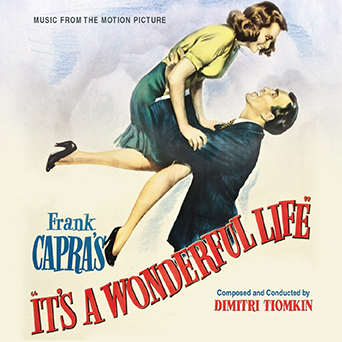 Dimitri Tiomkin's score for It's a Wonderful Life will be issued on compact disc by Kritzerland. The recording is direct from the original recording sessions as captured on acetate disc recordings retained by the composer and now held in the Tiomkin Collection at the Cinematic Arts Library at USC. The recordings included partial takes, aborted takes, and full takes.
Frank Capra directed this classic American film starring Jimmy Stewart.
READ: EW ranks It's a Wonderful Life 6th greatest film ever
The film was released by RKO in 1947. The CD's 22 tracks and 6 bonus tracks will allow listeners to hear music that was not used in the film allowing for a re-evaluation of Tiomkin's music score.
It's a Wonderful Life is limited to 1,200 copies and is priced at US$19.98, plus shipping. Listen to sample tracks and order here.
The CD release was produced by Bruce Kimmel and remastered by Chris Malone. Kimmel's Kritzerland Records specializes in hard-to-find classics, reissues, and new releases. The limited edition CD will sell out fast, so order your copy today. Orders will ship in July.